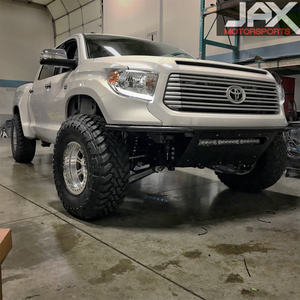 Platinum Toyota Tundra Build
In this post we will be detailing one of our favorite builds to date. The build we are talking about is the brand new Toyota Tundra Platinum. This truck was built to take a serious beating, yet be reliable enough to drive home from Mexico or Glamis after a weekend of fun.
For the front end of this build we went with the Camburg Racing long travel kit equipped with 2.5" Icon vehicle dynamics coilovers and bypasses. This front end kit has 16" of usable travel while keeping the factory Tundra 4wd. To add some extra support we welded in the Total Chaos spindle gussets. For the front we built a sleek low profile front bumper with a 30" Baja Designs bumper hidden behind the skid plate.
On the rear end of the truck we went with Camburg racing spring under kit with some 3.5" Fox Racing quadruple bypass shocks, which will cycle a clean 17" of travel. To complement the shocks we used a set of 4" stroke Fox bump stops. In the bed of the Tundra it was only right to go with the Camburg Racing bolt in Tundra bed cage. We added off of the bed cage to mount 2 full size spares and a race jack.
Last but not least is the exterior of the Tundra. For the wheels we went with 17" cast Monster bead locks from Raceline Wheels, wrapped in 37" Toyo M/T's. The fiberglass we used is the McNeil Racing 4" bulge that was color matched by Premier Paint Solutions, along with a spray in bed liner from Universal.  
---
2 comments