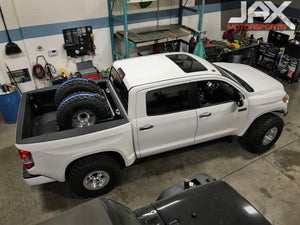 from trucks...
to cars...
we do it all
SHOP TOUR
OUR SHOWROOM
It's our mission at Jax Motorsports to provide you with the best experience possible. In our show room we showcase some of the products and services we have to offer, while giving you a comfortable place to sit while you're waiting for your vehicle to be completed.
OUR SHOP
 At Jax Motorsports we have a wide variety of equipment on hand for any job that will come through the door. Some of the equipment we have is a CNC Press Brake, CNC Plasma table, shear, tubing bender, tubing notcher, mill, lathe, tire machine, tire balancer, car lift, cold saw, and mig/tig welders. 
Reliability and quality you can count on
Now offering FREE alignment check
Email or call us to schedule a FREE alignment check to ensure your vehicle is handling how it should.
Superior Service
The addition of this machine means that we can continue to finish the job right the first time, as well as having your vehicle back to you quicker! Specializing Lifted Trucks, Modified vehicles and Long Travel Prerunners.
Jax Motorsports in Gilbert, AZ