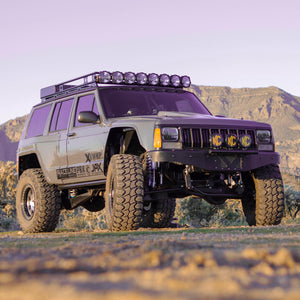 The Trophy Jeep
  This XJ has been in our family since 2007. This was my first vehicle in high school and its the reason why I fell in love with off roading and fabrication.
  Since there is so much to say about this Jeep I will keep this short and give the main specs for it with links where to find the products i'm talking about. If you are looking for more info and want to follow our build head over to YouTube and give us a follow at Jax Motorsports
   The Jeep started its life out as a Red 96 Cherokee Sport with the standard 4.0L engine and AX15 Transmission. Over the years the Jeep had seen many suspension upgrades and changes. The front suspension has been re done around 6 times, mostly because we were always wanting more travel or a smoother ride. The rear suspension has been changed around 5 times for the same reasons.
    Currently the Front suspension is a TTB setup off of a 93 Ford bronco. The beams are still the stock length and we are pulling 16" of wheel travel strapped. We are running 2.5"x 14" King Coil overs, 2.5"x 14" 2 tube King bypasses and some 2.0"x 4.0" bump stops. The rear suspension is a custom 4 link set up the pulls 19" of  wheel travel strapped. We are running 2.5"x 14" Coil overs, 2.5"x 16" 3 tube bypasses along with 2.0"x 4.0" bump stops. The axle on the rear is a old junk yard Ford 9 inch with some upgraded G2 axle shafts and a disc brake conversion. For both the front and rear suspension almost all the components add to be custom made. This isn't some Lift Kit you can just go buy off the shelf. 
    For the exterior we are running Hannemann fiberglass fenders and bedsides that are a 6 inch bulge, and YES the rear door still open. The lights we are running are the KC Hilites Gravity series Pro 6 bar on our roof rack, with the single Pro six lights on the bumper. For wheels we chose to go with 17" Raceline Monster Beadlocks wrapped In 35" Gladiator X Comp tires. We recently decided to change the color on the Jeep so we went with a Gloss Slate Grey From VViVid Vinyl. The Roof Rack and Bumpers are something that had been made custom in house. We do sell the Roof Rack but don't ship it because it costs ALOT.
    Onto the interior of the XJ. We made a one off custom dash and center console for the Jeep because we knew we would need a lot of room to mount accessories. We tried something a little different for the gauge cluster and used a Raspberry PI3 computer and screen with Dash command for the gauge cluster, and used Autometer Sport Comp II gauges as back ups if something were to happen. Our car to car system is a must have now a days and and is a 60 Watt kit from Rugged Radios. We went with Corbeau Forza Sport FIA certified seats and PRP seats 4 point harnesses. Some other acceories are a sidewinder gate sifter, Amazon special turning brake, KC Hilites flex dome lights, Lowrance HDS 12" gps, and a must have Moab Armor mount. One important note is that YES the Heat and Air conditioning still works!
    Now onto the Powertrain! The block we used was a LM7 or a 5.3L Truck motor from a 2003 Chevy Tahoe. The motor went straight to our good friends at PRK automotive to freshen her up. We ended up doing a cam, different pistons, injectors and a couple other things. The motor made a respectable 300HP/ 350 FT LB of torque at the rear wheel, teamed up to a Hughes performance turbo 350 with a 2700 stall converter. We had to use mostly car accessories like the water pump and intake to make the motor fit in the small engine compartment. For most the other components we used Novak Conversions and Dirty Dingo. We are still using the factory NP231 transfer case that came with the Jeep! 
   Most of the jeep is made out of 4130 Chromoly tubing a plate and is pretty much completely Tig welded. Using these higher end metals isn't cheap by any means but at the end off the day you cant put a price on your life. I hope this article has anwsered some of your questions about or build! If not not feel free to shoot us a email and be sure to follow us on Instagram and Facebook to stay up to date.
To see the Jeep in Action! Trophy Jeep at Glamis 
---
3 comments